FAQ | The Pin People
Have questions about custom lapel pins, custom medals, lanyards?
Our most Frequently Asked Questions
The FAQ toggles below outline or most frequently asked questions. Click the questions below that you would like to see the answers to.
If you still have questions that are not answered below, feel free to contact us, use the chat feature in the lower right corner or ask your question in the FAQ form at the bottom of this page. You can also call us or email us.
DO YOU PROVIDE FREE LAPEL PIN QUOTES?
Yes, we provide free quotes for all of our products. If you have a general idea of what you are looking for, you can use our FREE QUOTE form.
If you would like to speak to us directly, please feel free to call us at 1 800 667 8168
HOW LONG DOES IT TAKE TO MAKE LAPEL PINS?
After artwork is complete and approved by you, the lapel pin production is normally 6 to 8 weeks.
If you have a specific event or a specific date required, please let us know so we can be sure to meet it.
CAN YOU HANDLE RUSH ORDERS?
Depending on the production schedule at the factory, we can very often handle rush orders. Just tell us your date and we'll let you know if it's possible.
WHAT IS THE MINIMUM ORDER?
Though we don't technically have minimums, be aware that because the bulk of the cost is in the mould, the less pins you make the more expensive the pins will be.
CAN YOU SHIP ANYWHERE?
Yes, we can ship pretty much anywhere in the world.
WHAT'S INCLUDED IN THE PRICE?
Our final quotation will include all artwork, die and mould costs. The only extras are shipping and applicable taxes. We will give you a total when you place your order.
ARE THERE ANY SET UP FEES?
No. We build everything into one price so there are no surprises!
WHAT ARE YOUR PAYMENT TERMS AND HOW CAN I PAY?
We provide a 5% prepayment discount on MOST orders paid in full at the time of placement. OR we require a 50% deposit in order to proceed with your order. We accept Visa and MasterCard.
HOW DO I GET STARTED?
DO I NEED TO SEND YOU MY DESIGN?
If you have a design done, please send it, If not, we'd like you to give us ideas about what you'd like, but we will do the design once your order has been confirmed based on our price and delivery.
CAN I GET SAMPLES FOR APPROVAL BEFORE I PROCEED WITH MY ORDER?
On smaller run orders, samples are not practical. We provide a final piece of artwork and that represents the final product.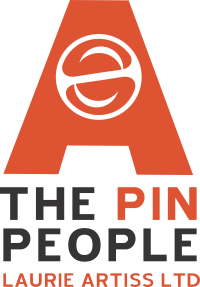 Custom Lapel Pins
Custom Medals
Custom Lanyards
Custom Coins
Custom Buttons
Don't see your question in our FAQ section?
Ask your question below and we will answer it.