Lapel Pin, Medals & Coins Colors
Using enamel paints to bring it aliive
Lapel pin color choices
Red to one person is Cherry Red to another, or Fire Engine Red to another
If you have ever walked into a paint store and were greeted by the long wall of paint color samples you know what we are about to say. There are many, many colors in the world. Some, when you hold them side by side look exactly the same.
Colors also look different in natural light than they do indoors, under bright white LED lights or a incandescent bulb.
What we are trying to say is there are many, many choices. House painters use paint color swatches, commercial printers (ie: business cards use printers ink – Pantone charts, or CMYK -Cyan, Magenta, Yellow and Black).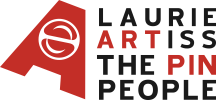 In our world, we use enamels
Unfortunately, not everyone has access to an enamel chart so if you need a specific colour, please refer to the Pantone Colour chart. Select a color number and we will match it as colose as we can to an enamel.
If the pin you want to have made is very specific to an existing brand (your company logo) and you want it to match as close as possible, we will require a Pantone number for each color. If you have a printer you have used to produce your business cards, envelopes, etc. They will have that Pantone or CMYK number.
There are a lot less enamel colors than there are paint or ink printers colors.
If you require a specific shade of a color, please refer to this Pantone PDF Chart. If you can refer to the specific Pantone number, then we will do our very best to match to that color.